Date of birth:
1980-07-11
Place of birth:
Peterborough, UK
Education History:
BSc (Hons) Zoology, University of Wales Swansea PhD, University of Cambridge (thesis: "Orang-utan Feeding Behaviour in Sabangau, Central Kalimantan")
Organisation you work for:
The Orangutan Tropical Peatland Project (OuTrop)
Position title:
Managing Director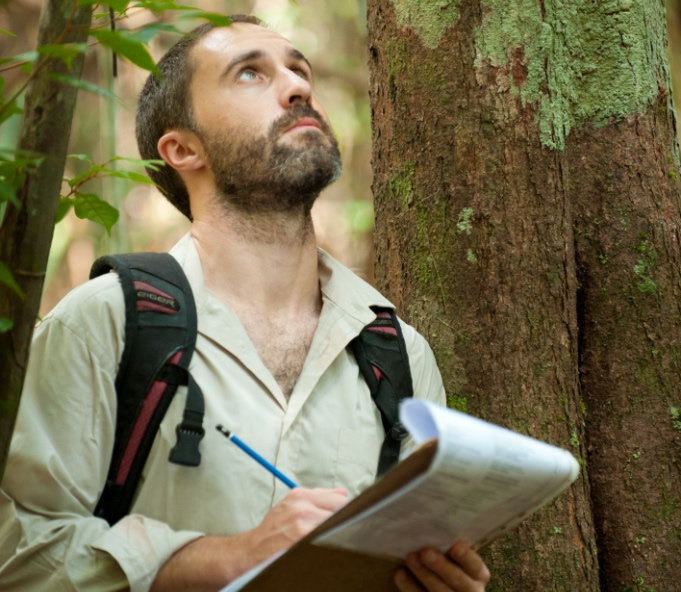 How did you get into the work you do presently?
While working on a project in Malawi studying hippos, I saw a vacancy advertised for a Research Assistant on a new orangutan behavior research project in the Sabangau Forest in southern Borneo, which was being set up by (now Dr) Helen Morrogh-Bernard. Fortunately, she selected me and so started my relationship with OuTrop, which – like our Orangutan Behaviour Project – continues to this day. My experience helping Helen inspired me to start my own PhD studying the feeding ecology of Sabangau's orangutans. It was clear that there were still many challenges to the conservation of Sabangau, so I've never really wanted to leave!
Describe the main aspects of your work:
As Managing Director, no two days are ever really the same, apart from never seeming to have enough hours in them! My work involves a lot of proposal and report writing, plus fund raising, internal and outreach communications, personnel management and recruitment, administration, strategizing, developing capacity building programmes, networking and project development. I still manage to spend some time studying the orangutans, other forest wildlife and the forest they inhabit, although my forest time is necessarily more limited now, making each moment all the more special!
What do you like best about your job?
It's varied nature, making new discoveries, creating new projects and seeing people develop into competent researchers and conservationists through the training opportunities we provide. Overall, though, I do feel that OuTrop are making a positive difference to orangutan and forest conservation in Borneo. Despite the challenges and frustrations faced on a daily basis, it's hugely rewarding to be part of that effort.